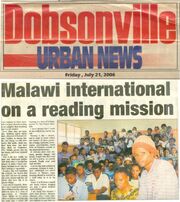 Cleo Bonny reading Ambassador
www.youtube.com/user/cleobonny6
I have been travelling to so many countries and i have learnt that people have switched or jumped to Technology by they have not intergrated the culture of reading into it.
I have been reading since i was 5 years though i can't seem to reamember some of the readings but it has really helped me.
When i was traveling my aim was to assist others.
There is difference between reading and studying that is why i have indicated that i can not remeber everything that i have read.
But when i started taking literature seriuosly i have learned that i can now remember materials that i relevant to my faculty and my direction in life.
When i was traveling i did not have direction at all, so that is because i have be educated by lecturers that do not lie by making every one pass in class.
My lecturer Professor Senlaal of literature and Professor Ngwenya of Grammer and language are tough nut to crack if you were to copy and past from the same technology (google) and (internet).
I am not going to stop my mission but training which is the lesson in a specific field (literature) and education which is the whole guide to life and teaching of how one can survive is important.
I do not propose educaed people to be having high caliber but they make difference in the world.
Even those that claim to have determination are willing to accept, obey and listen to other can learn on how their own self-confidence and power can give them drive to achieve tremendously.