Project Outline
Roger Lowensteins biography of Buffett goes up to 1995. We are looking for additional information that traces Buffett's professional accomplishment and life since then. Include a summary of the performance of Buffetts company, Berkshire Hathaway since 1990 and compare its performance with the performance of the DOW and other investors. Also identify and send links to other books about Buffett and his investment philosophy.
Buffett is famous as an adherent to the Graham Dodd philosophy of value based investing which challenged the supremacy of the Efficient Market Theory of investment prevalent on Wall Street after 1950.
Prepare a brief summary of both investment theories comparing and contrasting their underlying concepts and practical implications
Research the current status and acceptance of both theories among academics and the finance industry
Identify any other theories that have gain prominence in the past 15 years, summarize their position, report on their acceptance and relative importance at the current time.
Identify one or several books that compare and contrast investment theories and their practical applications.
Research Information
About Warren Buffett:
Warren Edward Buffett, born on August 30, 1930, in Omaha, Nebraska, is an American investor, businessman and philanthropist. Buffett, often called the "Oracle of Omaha", is regarded as one of the world's greatest stock market investors, and is the largest shareholder and CEO of Berkshire Hathaway. Buffett's philosophy on business investing is a modification of the value investing approach of his mentor Benjamin Graham. His investment style is also heavily influenced by Phil Fisher.
Buffett's Professional Accomplishment after 1990:
On March 15, 1991, Warren Buffett, chairman of Berkshire Hathaway, purchased $40 million of convertible bonds from M&T Bank, then called First Empire State Corporation. The bonds were convertible into M&T stock at a split-adjusted $7.89 per share, about a 15% premium to the prevailing stock price. Fifteen years later, M&T's stock is trading at $119 per share, a 15-fold increase in value.
Article: http://www.fool.com/investing/value/2007/01/17/mt-a-page-from-buffetts-playbook.aspx
Mr Buffett was inducted into the Junior Achievement U.S. Business Hall of Fame in 1997.
Buffett emphasized the non-productive aspect of gold in 1998 at Harvard.
In 1999, he was named the top money manager of the 20th century in a survey by the Carson Group, ahead of Peter Lynch and John Templeton.
Buffett believes that the U.S. dollar will lose value in the long run. He views the United States' expanding trade deficit as an alarming trend that will devalue the U.S. dollar and U.S. assets. As a result it is putting a larger portion of ownership of U.S. assets in the hands of foreigners. This induced Buffett to enter the foreign currency market for the first time in 2002. However, he substantially reduced his stake in 2005 as changing interest rates increased the costs of holding currency contracts.
In 2006, he announced a plan to give away his fortune to charity, with 83% of it going to the Bill & Melinda Gates Foundation.
In 2007, Buffett was listed among Time's 100 Most Influential People in The World. In a letter to shareholders, Buffett announced that he was looking for a younger successor or perhaps successors to run his investment business. Buffett had previously selected Lou Simpson, who runs investments at Geico, to fill that role. However, Simpson is only six years younger than Buffett.
He testified before the Senate and urged them to preserve the estate tax so as to avoid a plutocracy.
With an estimated net worth of around US$62 billion,[3] he was ranked by Forbes as the richest person in the world as of March 5, 2008.
Full article: http://en.wikipedia.org/wiki/Warren_Buffett
The net revenues in 1995 are $4.56 billion and net income is $795 million.
Berkshire Share Price at a Glance:
| | |
| --- | --- |
| May 1965 | $18 |
| Mar 1984 | $1,300 |
| Jan 1990 | $8,300 |
| Jan 1996 | $32,000 |
| Jan 2002 | $74,800 |
| Jan 2006 | $100,000 |
| Jul 2007 | $110,000 |
Berkshire Hathaway's price has increased by 6,111 times in 42 years; this means $1,000 invested with Berkshire stock in 1965 would have become $6.1 million by now...
Full article: http://seekingalpha.com/article/42100-50-checkpoints-of-warren-buffett-s-carreer
Buffett's Personal Life after 1990:
Mr Buffett's wife, Susan died in July 2004. His daughter Susie lives in Omaha and does charitable work through the Susan A. Buffett Foundation and is a national board member of Girls, Inc.
On his 76th birthday, in 2007, Buffett married his longtime companion, Astrid Menks, who had lived with him since his wife's departure.
Buffett is an avid player of the card game bridge. In 2006, he sponsored a bridge match for the Buffett Cup.
He used to drive a 2001 Lincoln Town Car which he auctioned on eBay to raise money for Girls Inc.
Warren Buffett is currently working with Christopher Webber on an animated series with DiC Entertainment chief Andy Heyward.
Full article: http://en.wikipedia.org/wiki/Warren_Buffett
Books about Buffett and his Investment Philosophy:
Some of the books are:
The Warren Buffett Way: Investment Strategies of the World's Greatest Investor by Robert G.Hagstrom
The Winning Investment Habits of Warren Buffett & George Soros by Mark Tier
The Warren Buffett Portfolio: Mastering the Power of the Focus Investment Strategy - Robert G.Hagstrom
The Essays of Warren Buffett: Lessons for Corporate America by Warren E Buffet
Buffett: The Making of an American Capitalist – Roger Lowenstein
How to Pick Stocks Like Warren Buffett: Profiting from the Bargain Hunting Strategies of the World's Greatest Value Investor –Timothy Vick
Buffettology: The Previously Unexplained Techniques That Have Made Warren Buffett The World's Most Famous Investor – Mary Buffett and David Clarke
How to Think Like Benjamin Graham and Invest Like Warren Buffett – Laurence A.Cunningham
The Essential Buffett: Timeless Principles for the New Economy – Robert G.Hagstrom Jr.
The Tao of Warren Buffett: Warren Buffett's Words of Wisdom: Quotations and Interpretations to Help Guide You to Billionaire Wealth and Enlightened Business Management - Mary Buffett and David Clarke.
The New Buffettology: The Proven Techniques for Investing Successfully in Changing Markets That Have Made Warren Buffett the World's Most Famous Investor - Mary Buffett and David Clarke.
List: http://www.amazon.com/Warren-Buffett-Way-Investment-Strategies/dp/0471177504
Trade like Warren Buffett – James Altucher.
Article: http://books.google.co.in/books?id=hOmE143gjMIC&pg=PA15&lpg=PA15&dq=graham+dodd+philosophy&source=web&ots=3ELg1b_we_&sig=O7hLGJLhW6hyiw6Cldr8HtRwH-s&hl=en#PPA16,M1
Weekend with Warren Buffett: And Other Shareholder Meeting Adventures by Randy Cepuch.
List of books at: http://www.amazon.com/Weekend-Warren-Buffett-Shareholder-Adventures/dp/156025954X
Berkshire Hathaway and Dow Jones Industrial Average:
Berkshire Hathaway is a conglomerate holding company headquartered in Omaha, Nebraska, U.S., that oversees and manages a number of subsidiary companies. Berkshire Hathaway's core business is insurance, including property and casualty insurance, reinsurance and specialty nonstandard insurance. The Company averaged a 25%+ annual return to its shareholders for the last 25 years while employing large amounts of capital and minimal debt. Berkshire Hathaway was founded as a textile manufacturing company in 1839 as the Valley Falls Company in Valley Falls, Rhode Island by Oliver Chace. Chace had previously worked for Samuel Slater, the "father of the industrial revolution," and founded his first textile mill in 1806. In 1929 the Valley Falls Company merged with Berkshire Fine Spinning Associates, another textile company that was founded as the Berkshire Cotton Manufacturing Company in Adams, Massachusetts in 1889. The combined company was known as Berkshire Fine Spinning Associates.
Warren Buffett is the company's chairman and CEO.
Financials:
Cash and cash equivalents at December 31, 2006: USD 43.743 billion
Equity investments at December 31, 2006: USD 61.533 billion
Total shareholders' equity at December 31, 2006: USD 108.419 billion
Revenue for 2006: USD 98.539 billion
Net earnings for 2006: USD 11.015 billion
Income taxes for 2006: USD 5.505 billion
Article: http://en.wikipedia.org/wiki/Berkshire_Hathaway
Berkshire Hathaway has one serious impediment to getting involved in a buyout of Dow Jones as some speculate could happen at the right price. Back on March 1, 2006 Berkshire Hathaway completed the acquisition of Business Wire. Business Wire is perhaps the number one global press release distribution mechanism for major companies that report earnings, mergers, strategic alliance and the like. It does compete with PR Newswire, Market Wire, Primezone and others, but most consider it the Rolls Royce of newswires and it is a Berkshire Hathaway portfolio company.
Article: http://www.247wallst.com/2007/06/warren_buffetts.html
Berkshire Hathaway Inc., the investment firm run by Warren Buffett, bought stakes in Dow Jones & Co. and Bank of America Corp. and more than quadrupled its holdings of health insurers UnitedHealth Group and WellPoint Inc.
Berkshire hadn't previously disclosed the stakes in Dow Jones, owner of the Wall Street Journal, and Bank of America, the second-largest U.S. bank, though it's unclear when the company acquired the positions. As of June 30, Berkshire held 2.78 million shares of Dow Jones and 8.7 million shares of Bank of America, the Omaha, Nebraska-based firm said in a filing with the U.S. Securities and Exchange Commission today.
Article: http://www.crossingwallstreet.com/archives/2007/08/buffett_buying.html
The Dow Jones Industrial Average is one of several stock market indices created by nineteenth century Wall Street Journal editor and Dow Jones & Company co-founder Charles Dow. Dow compiled the index as a way to gauge the performance of the industrial component of America's stock markets. It is the oldest continuing U.S. market index, aside from the Dow Jones Transportation Average, which Dow also created.
Today, the average consists of 30 of the largest and most widely held public companies in the United States.
Article: http://en.wikipedia.org/wiki/Dow_Jones_Industrial_Average
Dow Jones Industrial Average
Dec. 31, 1964: 874.12
Dec. 31, 1981: 875.00
Dec. 31, 1998: 9181.43
Gain in Gross National Product
1964-1981: 373%
1981-1998: 177%
Interest Rates, Long-Term Government Bonds
Dec. 31, 1964: 4.20%
Dec. 31, 1981: 13.65%
Dec. 31, 1998: 5.09%
Article: http://chinese-school.netfirms.com/Warren-Buffett-interview.html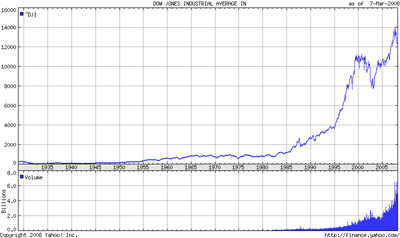 Index Value: 11,893.69
Trade Time: Mar 7
Change: 146.70 (1.22%)
Prev Close: 12,040.39
Open: 12,039.09
Day's Range: 11,819.69 - 12,094.21
52wk Range: 11,508.70 - 14,280.00
Article: http://finance.yahoo.com/q/bc?s=%5EDJI&t=my&l=off&z=l&q=l&c=
In 2007, Dow Jones appeared as a new entry for Berkshire, as Buffett and two Berkshire entities managed the purchase of roughly 2.8 million shares, or more than 3% of the company, between April 1 and June 30. The holding is listed at $159.8m.
Conceivably, Buffett could have started buying Dow Jones stock before the deal was announced on May 1 and picked up a bargain at $34. Shares of Dow Jones (which owns MarketWatch, the publisher of this report) ended Wednesday trading unchanged at $58.50.
Article: http://www.fin24.com/articles/default/display_article.aspx?ArticleId=1518-1783_2165669
Berkshire's Corporate Performance vs. the S&P 500:
Annual Percentage Change
in Per-Share Book Value of Berkshire
in S&P 500 with Dividends Relative Included
Results

Year

(1)

(2)

(1)-(2)

1965

23.8

10.0

13.8

1975

21.9

37.2

(15.3)

1985

48.2

31.6

16.6

1995

43.1

37.6

5.5

1996

31.8

23.0

8.8

1997

34.1

33.4

0.7

1998

48.3

28.6

19.7

1999

0.5

21.0

(20.5)

2000

6.5

(9.1)

15.6

Average Annual

Gain–1965-2000

23.6%

11.8%

11.8%

Overall Gain

–1964-2000

207,821%

5,383%

202,438%
Notes: Data are for calendar years with these exceptions: 1965 and 1966, year ended 9/30; 1967, 15 months ended 12/31.
Starting in 1979, accounting rules required insurance companies to value the equity securities they hold at market rather than at the lower of cost or market, which was previously the requirement. In this table, Berkshire's results through 1978 have been restated to conform to the changed rules. In all other respects, the results are calculated using the numbers originally reported.
The S&P 500 numbers are pre-tax whereas the Berkshire numbers are after-tax. If a corporation such as Berkshire were simply to have owned the S&P 500 and accrued the appropriate taxes, its results would have lagged the S&P 500 in years when that index showed a positive return, but would have exceeded the S&P in years when the index showed a negative return. Over the years, the tax costs would have caused the aggregate lag to be substantial.
Article: http://www.berkshirehathaway.com/2000ar/2000ar.pdf
Microsoft, Berkshire Hathaway and S&P 500:
Warren Buffett's conglomerate has done better with investors lately. It has a strong profit margin of 10.9%, revenue growth of 29% and earnings growth of 69%. Berkshire is a cash machine, and right now Buffett's investment company is sitting on $42 billion in cash. Yet, despite its good fortune, Berkshire Hathaway stock has also underperformed the market index the past two years.
The price of Microsoft stock has already suffered by Gates' decision several years ago to steadily sell his shares to fund his foundation, now valued at $30 billion.
As the below graph shows, Microsoft has been the worst performer so far, despite its outstanding financial condition. The stock has declined from $28 to $23. Part of it is due to its postponement of a new business software package; part is due to heavy insider selling. Right now, investors are not happy with the performance of Microsoft.
The following chart shows the recent performance record of Microsoft and Berkshire Hathaway… both stocks lagging behind the S&P 500 since September 2004: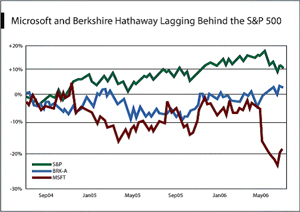 Article: http://www.investmentu.com/IUEL/2006/20060707.html
Other Theories:
Efficient Market Hypothesis (EMH) – The Theory of Speculation:
An investment theory that states that it is impossible to "beat the market" because existing share prices already incorporate and reflect all relevant information.
The EMH is a highly controversial and often disputed theory. Supporters believe it is pointless to search for undervalued stocks or try to predict trends in the market through any technique from fundamental to technical analysis, since an individual could achieve superior results from randomly picking stocks from a hat.
On the other hand, academics point to a large body of evidence in support of EMH. This includes the fact that since the balance of investors value stocks differently, it is impossible to ascertain what a stock "should" be worth in an efficient market. Also, investors such as Warren Buffett have consistently beaten the market.
Article: http://financial-dictionary.thefreedictionary.com/Efficient+Market+Hypothesis+-+EMH
The efficient market hypothesis states that it is not possible to consistently outperform the market by using any information that the market already knows, except through luck. Information or news in the EMH is defined as anything that may affect prices that is unknowable in the present and thus appears randomly in the future.
Skeptics of EMH argue that there exists a small number of investors who have outperformed the market over long periods of time, in a way which is difficult to attribute to luck, including Peter Lynch, Warren Buffett, George Soros, and Bill Miller. These investors' strategies are to a large extent based on identifying markets where prices do not accurately reflect the available information, in direct contradiction to the efficient market hypothesis which explicitly implies that no such opportunities exist. Among the skeptics is Warren Buffett who has argued that the EMH is not correct, on one occasion wryly saying "I'd be a bum on the street with a tin cup if the markets were always efficient" and on another saying "The professors who taught Efficient Market Theory said that someone throwing darts at the stock tables could select stock portfolio having prospects just as good as one selected by the brightest, most hard-working securities analyst. Observing correctly that the market was frequently efficient, they went on to conclude incorrectly that it was always efficient." Adherents to a stronger form of the EMH argue that the hypothesis does not preclude - indeed it predicts - the existence of unusually successful investors or funds occurring through chance. In addition, supporters of the EMH point out that the success of Warren Buffett and George Soros may come as a result of their business management skill rather than their stock picking ability.
Warren Buffett, Peter Lynch, and George Soros all made their fortunes exploiting differences between market valuations and underlying economic conditions. This notion is further supported by the fact that all stock market operators who regularly appear in the Forbes 400 list made their fortunes working as full time business people, most of whom received college educations and adhered to a strict stock picking philosophy they developed at a relatively early age. If "throwing darts at the financial pages" were as effective an approach to investment as deliberate financial analysis, one would expect to see casual, part time investors appearing in rich lists as frequently as professionals like George Soros and Warren Buffett.
Article: http://en.wikipedia.org/wiki/Efficient_market_hypothesis
The efficient market hypothesis is 90 percent true, and you will lose money by ignoring it. However, judging by Warren Buffett's fortunes, a few skilled searchers might find rewards in the remaining 10 percent worth chasing.
It comes as a shock when the latest rich list from Forbes reveals that Warren Buffett has collected $44bn by finding $10 bills among the trash on the pavements of Wall Street, and now rivals Bill Gates for the title of the world's richest man. Mr Buffett's investment success has long troubled efficient market theorists.
In 1999 smart operators thought his luck had run out and sent Berkshire Hathaway shares to a discount on asset value. Mr Buffett eschewed technology shares, explaining that he would not invest in things he did not understand. As usual, he had the last laugh.
Article: http://www.johnkay.com/in_action/327
Modern Portfolio Theory:
Modern portfolio theory (MPT) proposes how rational investors will use diversification to optimize their portfolios, and how a risky asset should be priced. The basic concepts of the theory are Markowitz diversification, the efficient frontier, capital asset pricing model, the alpha and beta coefficients, the Capital Market Line and the Securities Market Line.
MPT models an asset's return as a random variable, and models a portfolio as a weighted combination of assets; the return of a portfolio is thus the weighted combination of the assets' returns. Moreover, a portfolio's return is a random variable, and consequently has an expected value and a variance. Risk, in this model, is the standard deviation of the portfolio's return.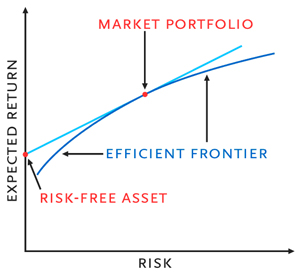 Article: http://en.wikipedia.org/wiki/Modern_portfolio_theory
Post-modern portfolio theory:
This is a refinement to modern portfolio theory. Recent advances in portfolio and financial theory, coupled with today's increased electronic computing power, have overcome these limitations. The resulting expanded risk/return paradigm is known as Post-Modern Portfolio Theory, or PMPT. Thus, MPT becomes nothing more than a (symmetrical) special case of PMPT.
In 1987 The Pension Research Institute at San Francisco State University developed the practical mathematical algorithms of PMPT that are in use today. These methods provide a framework that recognizes investors' preferences for upside over downside volatility.
Article: http://en.wikipedia.org/wiki/Post-modern_portfolio_theory
Investment Framework – Conventional Theory:
"Warren Buffett was spending a lot of his time at a brokerage office……., following various stocks, but he didn't have a system for investing – or he did, it was haphazard. He would study the charts, he would listen to tips, but he didn't have a framework. He was searching".
Conventionalism is often confused with conservatism. By doing what is conventional, investors think they are acting conservatively. There are 2 schools of thought in investing. One takes on a more theoretical and quantitative form and the other takes a more business-like approach. Both differ in their interpretation and treatment of risks.
Those who have studied finance would have learned about Modern Portfolio Theory, which generally defines risk as the volatility of the share price against the general market index. The more volatile the share price, the riskier the company. Hence, the conventional way of reducing risk is to diversify.
If you follow the conventional theory of diversifying and invest in 20 counters but all are in the banking industry, does this mean you are being conservative? Definitely not, because in a financial crisis like in 1997/98, all 20 of the stocks will be affected. On the other hand, if you invest in 20 counters in 20 different sectors but all are speculative in nature, you are also not being conservative.
What we are saying is that if you are diversifying for the sake of diversifying, you are only acting conventionally and not conservatively.
The conventional advice is that high returns can only be obtained by taking high risks.
Article: http://www.cdam.biz/contents/home.php?cat=3&sub=5
Barclays Global Investors:
Barclays Global Investors is an investment management subsidiary of U.K.–based Barclays Bank. It is the largest corporate money manager in the world, with over £1.04 trillion (US$2.08 trillion) under management as of October 2007. The division is headquartered in San Francisco, and also has research and portfolio management teams in London, Sydney, Tokyo, Toronto and other cities, as well as client service offices in several additional major financial centres in Europe, North America and Asia. Since 2000, Barclays Global Investors' active fund management business has grown significantly, to the point where it accounted for approximately 50% of the firm's revenue in 2006.
Because the company is the largest asset manager, it is also the largest privately-held beneficial owner of companies in the world.
Article: http://en.wikipedia.org/wiki/Barclays_Global_Investors
Value Investing:
Value investing is an investment paradigm that derives from the ideas on investment and speculation that Ben Graham & David Dodd set forth in their 1934 text Security Analysis. Although value investing has taken many forms since its inception, it generally involves buying securities whose shares appear underpriced by some form(s) of fundamental analysis. As examples, such securities may be stock in public companies that trade at discounts to book value or tangible book value, have high dividend yields, have low price-to-earning multiples or have low price-to-book ratios.
Notable proponents of value investing, including Berkshire Hathaway chairman Warren Buffett, have argued that the essence of value investing is buying stocks at less than their intrinsic value. The discount of the market price to the intrinsic value is what Benjamin Graham called the "margin of safety". The intrinsic value is the discounted value of all future distributions.
Full article: http://en.wikipedia.org/wiki/Value_investing
An Alternative Theory: Behavioral Finance
Behavioural psychology approaches to stock market trading are among some of the more promising alternatives to EMH (and some investment strategies seek to exploit exactly such inefficiencies). A growing field of research called behavioral finance studies how cognitive or emotional biases, which are individual or collective, create anomalies in market prices and returns that may be inexplicable via EMH alone. However, how and if individual biases manifest inefficiencies in market-wide prices is still an open question.
Ironically, the behavioral finance programme can also be used to tangentially support the EMH - or rather it can explain the skepticism drawn by EMH - in that it helps to explain the human tendency to find and exploit patterns in data even where none exist.
Article:
http://en.wikipedia.org/wiki/Efficient_market_hypothesis#An_alternative_theory:_Behavioral_Finance
Market Portfolio:
A market portfolio is a portfolio consisting of a weighted sum of every asset in the market, with weights in the proportions that they exist in the market (with the necessary assumption that these assets are infinitely divisible).
Richard Roll's critique (1977) states that this is only a theoretical concept, as to create a market portfolio for investment purposes in practice would necessarily include every single possible available asset, including real estate, precious metals, stamp collections, jewelry, and anything with any worth, as the theoretical market being referred to would be the world market. As a result, proxies for the market (such as the FTSE100 in the UK or the S&P500 in the US) are used in practice by investors. Roll's critique states that these proxies cannot provide an accurate representation of the entire market.
The concept of a market portfolio plays an important role in many financial theories and models, including the Capital asset pricing model where it is the only fund in which investors need to invest, to be supplemented only by a risk-free asset (depending upon each investor's attitude towards risk).
Article: http://en.wikipedia.org/wiki/Market_portfolio
Books Comparing Investment Theories:
Evaluating the effects of time and risk on investment choices: A comparison of finance theory and decision analysis (Unknown Binding) by Peter Morris (Author)
List:
http://www.amazon.com/Evaluating-effects-time-investment-choices/dp/B00071XPX6/ref=sr_1_1?ie=UTF8&s=books&qid=1205068708&sr=1-1
A comparison of alternative theories of corporation investment behavior (Working paper - Center for Research in Management Science, University of California) (Unknown Binding) by Dale Weldeau Jorgenson (Author)
List:
http://www.amazon.com/comparison-alternative-theories-corporation-investment/dp/B0007F6ZHU/ref=sr_1_2?ie=UTF8&s=books&qid=1205068708&sr=1-2
Community content is available under
CC-BY-SA
unless otherwise noted.